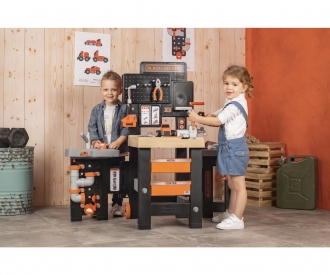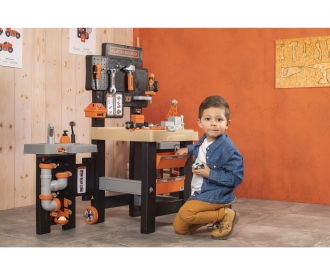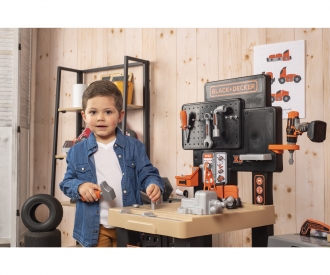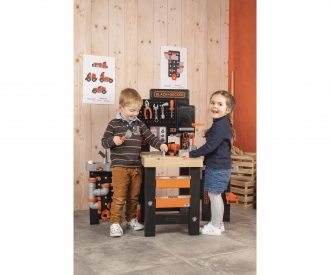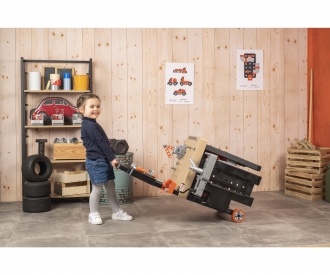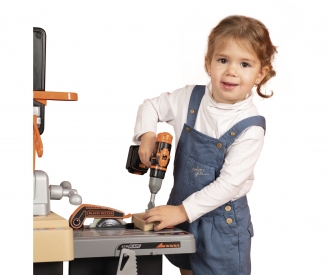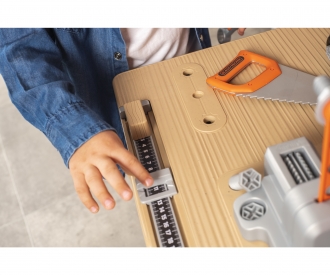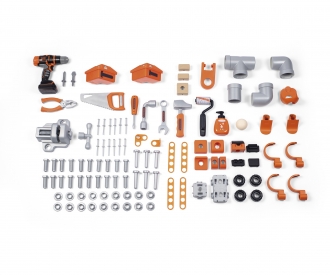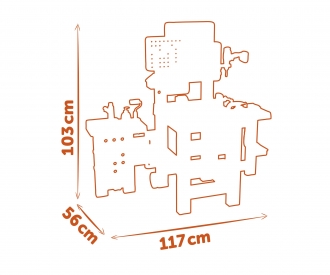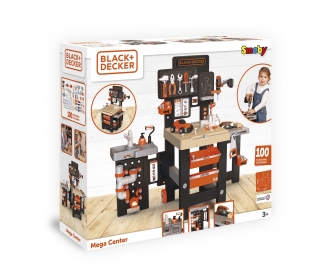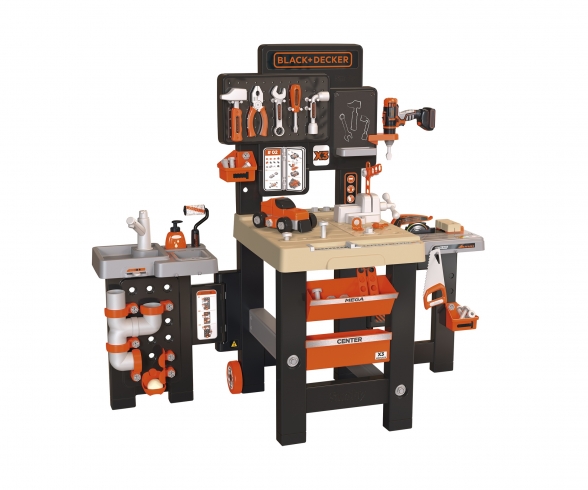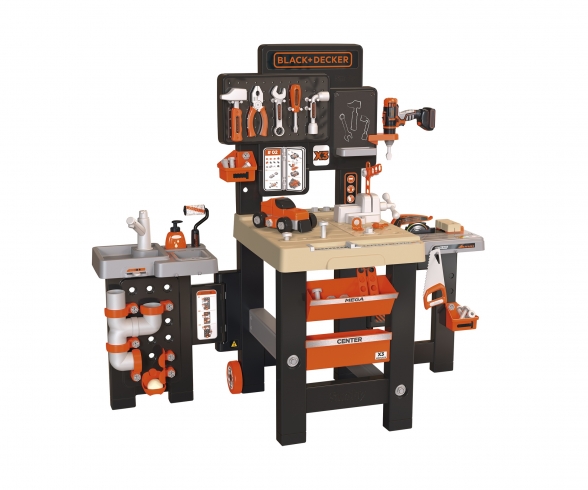 €149.99
incl. VAT
free shipping
(within the EU)
We will notify you by email as soon as this item is available again.
This item can only be delivered to the following countries:
Germany, Austria, Belgium, Bulgaria, Denmark, Estonia, Finland, France, Greece, Ireland, Italy, Luxembourg, Malta, Netherlands, Poland, Portugal, Romania, Sweden, Slovakia, Slovenia, Spain, Czech Republic, Hungary, Cyprus
Product information
With the large Smoby Black+Decker Mega Workbench Center, kids can discover the fun of DIY. In addition to the classic tool area for hammering, drilling and screwing, the playful children's workshop offers an additional workstation for painting and plumbing, as well as a saw area.
The workshop is equipped with a mechanical cordless screwdriver and many tools: hammer, screw clamp, screwdriver, wrench, wheel wrench and pliers. The work surface features the popular nail board: tap a nail into it and another one pops out! Plus, there are plenty of toy screws, nuts and nails, a sliding ruler on the front, and lots of compartments and shelves to store accessories. Plus, little mechanics can assemble a real car from the construction set in just a few easy steps.
The left wing of the workbench is dedicated to painting and plumbing: here there is a sink with a faucet, a paint roller with a tub and, in the lower part, plumbing elements with pipes from which the child can screw a piping circuit and test it with a ball.
In the right wing of the workbench there is the saw workshop for woodwork with a mechanical circular saw and a small hand saw.
The workbench can be easily stored, because the side parts can be folded and thanks to the wheels, the Mega Center can also be easily transported. The Smoby Mega workbench was designed in close cooperation with Black+Decker, the well-known manufacturer of power tools true to the original and is manufactured in France.
Product details:
Dimensens: 56 x 34 x 103 cm.
For children aged 3 years and over.
Copyright: Black+Decker

Warning! Not suitable for children under 3 years due to small parts. Choking hazard!

Downloads