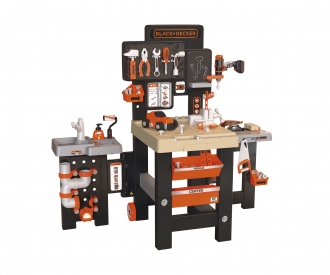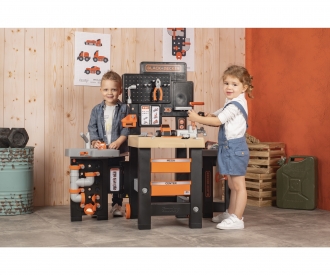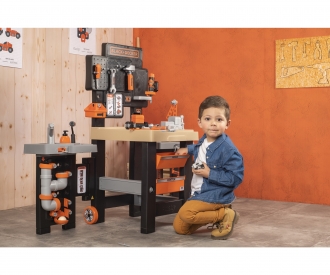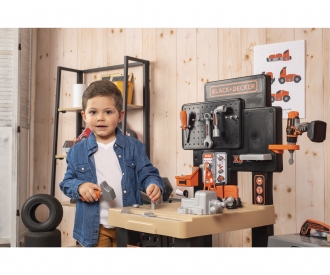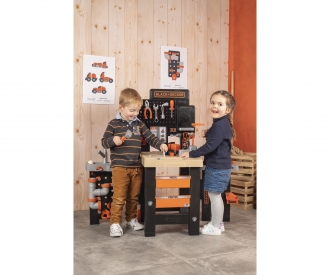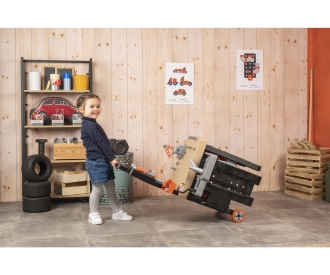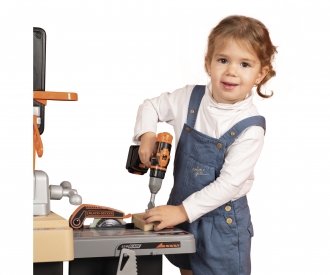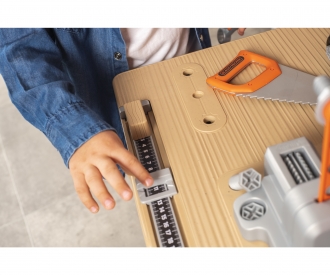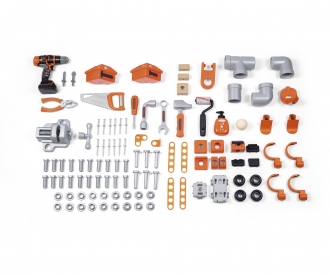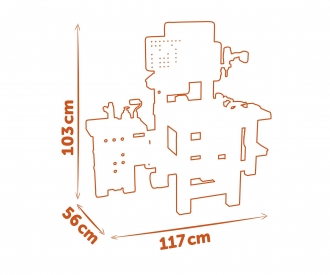 https://video.simba-dickie.com/embed/de/smoby_blackdecker_mega_werkbank_center/?autoplay=1&quality=720p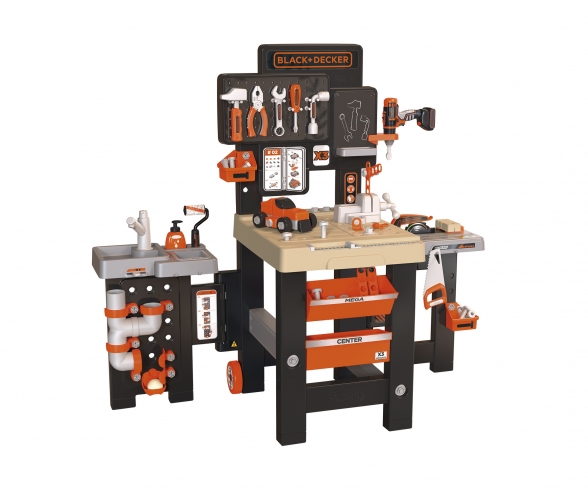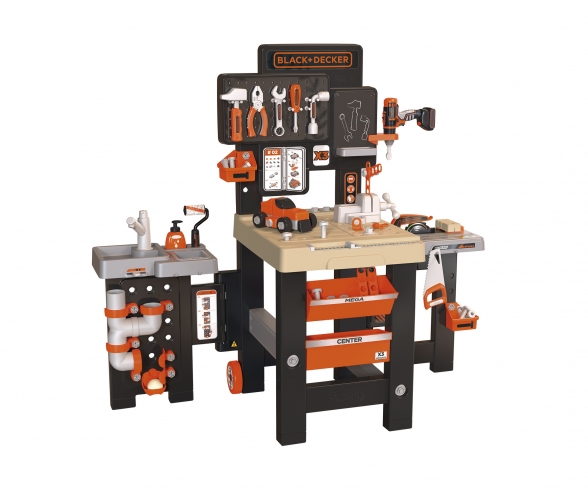 Smoby Black+Decker Werkbank Mega Center
Article number: 7600360726
Age recommendation: from 3 years
€149.99
incl. VAT
free shipping
(within the EU)
We will notify you by email as soon as this item is available again.
This item can only be delivered to the following countries:
Germany, Austria, Belgium, Bulgaria, Denmark, Estonia, Finland, France, Greece, Ireland, Italy, Luxembourg, Malta, Netherlands, Poland, Portugal, Romania, Sweden, Slovakia, Slovenia, Spain, Czech Republic, Hungary, Cyprus
Product information
Mit dem großen Smoby Black+Decker Mega Werkbank Center können die Kids den Spaß am Heimwerken entdecken. Die spielstarke Kinder-Werkstatt bietet neben dem klassischen Werkzeug-Bereich zum Hämmern, Bohren und Schrauben einen zusätzlichen Arbeitsplatz zum Malern und für Klempnerarbeiten, sowie einen Sägebereich.

Die Werkstatt ist ausgestattet mit einem mechanischen Akkuschrauber und vielen Werkzeugen: Hammer, Schraubzwinge, Schraubendreher, Schraubschlüssel, Radschlüssel und Zange. Die Arbeitsfläche verfügt über das beliebte Nagelbrett: klopfe einen Nagel hinein, dann springt ein anderer heraus! Dazu gibt es viele Spielzeug-Schrauben, Muttern und Nägel, ein verschiebbares Lineal an der Vorderseite und viele Fächer und Ablagen zum Verstauen des Zubehörs. Zudem können kleine Mechaniker mit nur wenigen Handgriffen ein echtes Auto aus dem Konstruktionssatz zusammenbauen.

Der linke Flügel der Werkbank ist dem Malern und Klempnern gewidmet: hier gibt es eine Spüle mit Wasserhahn, eine Farbrolle mit Wanne und im unteren Teil Sanitärelemente mit Rohren, aus denen das Kind einen Rohrleitungskreislauf schrauben und mit einer Kugel testen kann.
Im rechten Flügel der Werkbank findet sich die Sägewerkstatt für Holzarbeiten mit mechanischer Kreissäge und einer kleinen Handsäge.

Die Werkbank kann leicht verstaut werden, denn die Seitenteile lassen sich zusammenklappen und dank der Rollen kann das Mega Center auch leicht transportiert werden. Die Smoby Mega Werkbank wurde in enger Kooperation mit Black+Decker, dem bekannten Hersteller von Elektrowerkzeugen originalgetreu gestaltet und wird in Frankreich hergestellt.
Produktdetails:
Altersempfehlung: geeignet für Kinder ab 3 Jahren.
Produktmaße (LxBxH): 56 x 34 x 103 cm.
Copyright: Black+Decker

Warning! Not suitable for children under 3 years due to small parts. Choking hazard!

Downloads