Kids table football
Aim, shoot and score! Get excited about Smoby table football for kids and look forward to matches full of fun and excitement. For more information, click here.
More
---
Sort by:
Top sellers
New
Price ascending
Price descending
Filter
---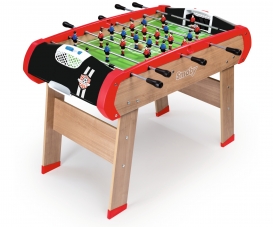 Kids table football
CHAMPIONS FOOTBALL TABLE
7600620400
available in stores
Football table with wooden feet and structure, for children and adults. Designed for maximum stability and durability, the Champions has everything to delight football fans. Ergonomic handles, ball launcher and mounted players. Field size: 95x59cm Delivered with 2 cork balls Dim : 120 x 87 x 86 cm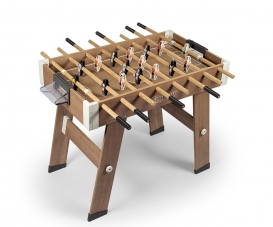 Kids table football
CLICK & GOAL FOOTBALL TABLE
7600620700
available in stores
Discover or rediscover how fun and exciting it is to play table football with friends and family ! At home, away for a weekend, at friends' or anywhere, the Click & Goal concept can be assembled and disasembled quickly and with no tool. So you can either transport it easily thanks to its transportation box, or either store it in a reduced space. Who said a football table takes too much space ? The different parts of the table are connected to each others with clips or manual screws. The product is mainly composed of wood (including bars) and offers a great resistance and stability. Players are made of plastic and decorated with stickers, so each player is different, which brings more realism and fun to the design. The product is sold in its high quality cardboard transportation box, which is equipped with 2 lateral open handles as well as one plastic handle on the top. 2 balls included : 1 cork ball and 1 plastic ball, so it offers 2 different game styles (smoother or faster). For children aged 8 years and over. Made in France.   Product details: Dimensions: 97 x 94 x 82cm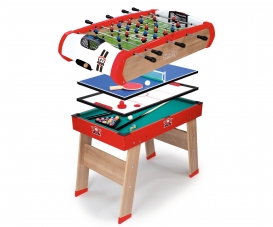 Kids table football
Smoby Powerplay 4 In 1
7600640002
available in stores
Challenge your friends or family with this real and modern football table that offers 3 additional functions (Pool, Ping-Pong, Hockey). Strong and very stable, it is also easy to swtich between functions so that you can organize real tournaments. All accessories are included.   Product details: Dim : 120 x 87 x 86 cm
Smoby football table - table soccer for children
You may remember from your own childhood how much fun a game of table soccer can be. When playing with and against each other, the tension increases with every goal kick - and in the end, proud winners and worthy losers shake hands. Table soccer is not only a hit at every children's birthday party, but also enriches afternoon play meetings and is suitable for tough parent-child duels.
Football tables and their features
Most football tables differ from each other mainly in terms of these two features:
Football balls - cork or plastic?
Without balls, no game! Football balls are an indispensable part of any table soccer game and are made of different materials. Especially common are balls made of cork and plastic. Plastic balls are significantly harder, often somewhat heavier and more expensive to purchase. Balls made of cork, on the other hand, are light and cheap, but less durable.
Football figures - aluminum, wood or plastic?
The football figures that are played with are mostly made of aluminum, wood or plastic. Here, too, each material brings its advantages and disadvantages. Aluminum is light and extremely stable, but the figures often have a comparatively high price. In addition, chipped paint cannot be ruled out on painted figures during wilder games. Wooden figures are in the middle of the price range, but can splinter if subjected to too much stress. It should also be borne in mind that wood is known to "work" and the figures can react correspondingly sensitively to temperature fluctuations. The plastic version is often offered at a particularly low price and can break under certain circumstances, but is surprisingly robust if well made.
Children's football - What criteria should you look for?
If you want to buy a football table, you should know the most important purchase criteria, which are:
Age recommendation
The age recommendation tells you for which age a product is intended. It should only be understood as a guideline, as children develop at their own pace. Accordingly, it is essential that you assess your own child accurately and judge for yourself whether he or she is ready to use a particular product.
High quality workmanship & material
The be-all and end-all when buying a football table is to pay attention to high-quality materials and careful workmanship. Only if this is given, you can trust that the football table can meet high standards of durability.
Weather resistance for outdoor kickers
If you want to use the football table for children outdoors, you should choose a weather-resistant product. This means: moisture and rain should not harm the table soccer.
Washable
To ensure that hygiene is not neglected, it is advisable to choose a washable football table. You can clean it with a damp cloth and, if necessary, even with soap or a mild disinfectant.
Smoby table soccer - our range at a glance
In the product category football table we have three first-class products, which are briefly presented below:
Smoby Click & Goal table soccer
The Click & Goal table soccer that you can see here is a wooden table football for children with figures made of glued plastic. Thanks to the simple click system, the table can be disassembled and reassembled in a few simple steps. Thus, it can be stored particularly space-saving and easy to transport.
Smoby multifunction table soccer
Click here to get the Smoby Powerplay multifunction table soccer. The table soccer is a 4-in-1 product with which you can play table soccer, field hockey, table tennis or billiards. The accessories for all four possible games are included, from cork balls to table tennis bats and pucks to billiard balls.
Smoby table soccer champions
The Champions football table, which you can learn more about here, combines wood, plastic and aluminum to create an all-around successful product with professional character. With colorful aluminum game figures, smooth-running rods and ergonomic handles, this football table offers small soccer fans the ultimate playing experience.
Conclusion: Smoby football table - fun for the whole family
Compete against selected opponents, play exciting matches and enjoy the goal celebrations! Smoby football tables convince with excellent quality, highest functionality and top designs. Fall together with your child to the soccer fever - may the better man win!
In addition to table soccer for children, there are many other products to discover at Smoby - for example, from the categories of role play toys, outdoor toys and children's furniture. Let yourself be inspired by the theme worlds on our homepage and start your next toy adventure!