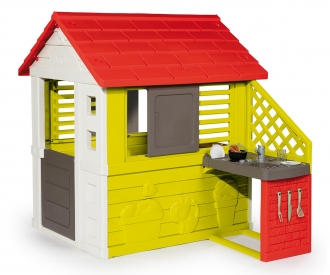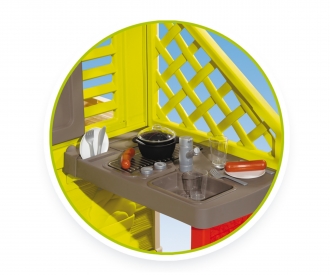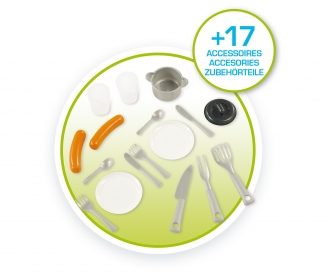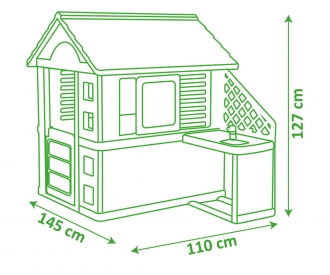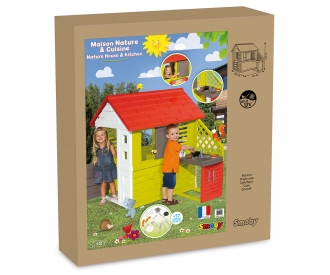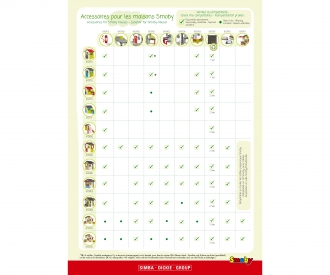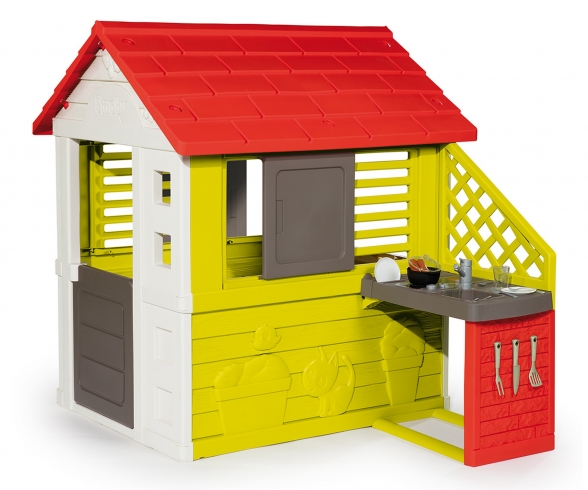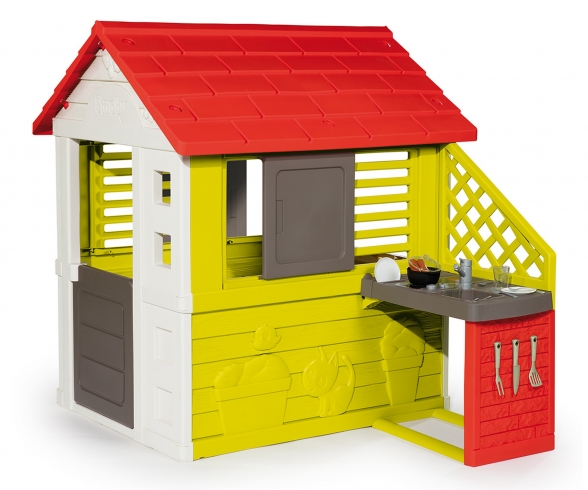 €199.99
incl. VAT
free shipping
(within the EU)
Quantity:
1
2
3
4
5
6
7
8
9
10
11
12
13
14
15
16
17
18
19
20
21
22
23
24
25
26
27
28
29
30
Delivery time 5-7 working days within Germany
This item can only be delivered to the following countries:
Germany, Austria, Belgium, Bulgaria, Denmark, Estonia, Finland, France, Greece, Ireland, Italy, Luxembourg, Malta, Netherlands, Poland, Portugal, Romania, Sweden, Slovakia, Slovenia, Spain, Czech Republic, Hungary, Cyprus
Product information
Das stabile Smoby Natur Haus bietet mit seiner tollen Sommerküche viel Spielspaß für die Kleinen. Die an der Außenwand befestigte Spielküche verfügt über eine Spüle mit Wasserhahn (nicht funktionsfähig), eine Barbecue-Grillplatte sowie eine Geschirrablage. Vervollständigt wird das Koch-Erlebnis durch 2 Gläser, 2 Teller, Küchenhelfer, Würstchen und einen Topf.
Im Inneren bietet das Spielhaus viel Platz zum Spielen und Verstecken. Dank des besonderen Fertigungsverfahrens ist es kinderleicht zu montieren und besonders stabil. Die vier robusten Seitenwände sind detailreich gestaltet, Schmetterlinge und eine Katze zieren die Fassade und sorgen für ein lustiges Design. 2 Fenster mit Lamellen und Schiebeläden zum Auf- und Zuschieben, eine kleine Eingangstüre sowie ein zusätzliches Fenster auf der Hausrückseite ergänzen die Ausstattung des Gartenhäuschens.
Hergestellt aus hochwertigem, UV-stabilem Kunststoff ist dieses Spielhaus von Smoby besonders widerstandsfähig gegen Wettereinflüsse und Ausbleichung.
Produktdetails:
Produktmaße (LxBxH): 145 x 110 x 127 cm.
Altersempfehlung: geeignet für Kinder ab 2 Jahren.


Downloads